By Heather Isch
Have you ever worked with a group that did not feel or operate like a team? How about a group that felt like a team, trust was high, and results were off the charts? Which one did you prefer?
At LKF, we believe that teamwork and collaboration are what enables us to deliver intelligent marketing solutions to our clients each day. We've put a lot of energy into building teams, and one of the most important tools in our arsenal is the Kolbe A Index.
We utilize this index to help us match the right people to the right seats. The Kolbe helps us understand each team member's unique attributes, how they communicate, and their approach to productivity. We were first introduced to this tool when we became an EOS (Entrepreneurial Operating System) company.
As a leader of an ever-growing business, it is important to me that every member of our team feels valued and holds sense of pride for their role. As we add more people to our work family, it becomes difficult to understand every nuance of a person's mode of operation.
Thankfully, Kolbe takes some of the guessing out of the equation. The scores help us navigate differences, improve communication, build trust, and celebrate our unique qualities. As we have become more educated about the Kolbe's four scores, we realize why certain people may or may not be a natural fit for particular positions within our teams. Scores correspond to improvise, refine, imagine, and adapt categories. Specific responses are used to illustrate where an individual is most likely to initiate, respond to, or prevent productivity.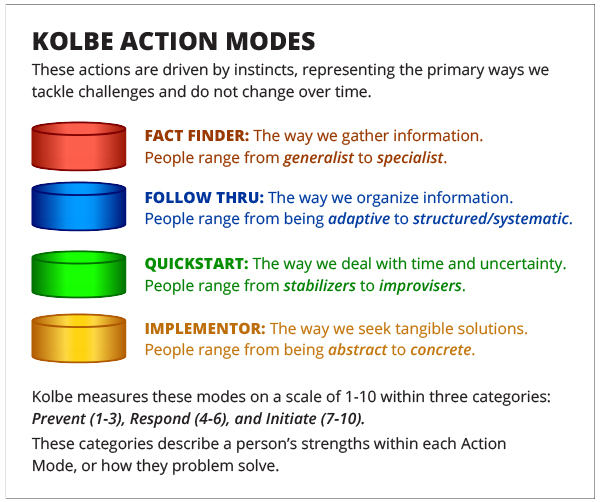 Using the Kolbe during the interviewing and hiring process helps us make better decisions from the start; however, it is not a silver bullet. We use the index alongside other tools that make our teams effective. Once a person joins our team, we continue to use Kolbe scores to improve teamwork. We encourage each team member to become a student of Kolbe by understanding their own numbers as well as those of their co-workers.
According to Elizabeth Wright, Vice President of Operations at 633 Group and Certified Kolbe Coach, "Kolbe scores help us understand how we begin action. They allow for a smoother approach to conflict, solve team issues, and improve personal relationships. Productivity improves when we are in our sweet spot."
Talking with Elizabeth as an LKF client and a member of an EOS company has always been helpful. During our conversation regarding this industry insight, something she said really stuck with me.
"The more I understand about myself, the more I want to understand others," she said. "When people are free to be who they were designed to be they will be their most productive. That freedom is a game changer for people and companies motivated to be collaborative."
Interested in building a culture of trust within your business? Contact us with any questions you may have regarding the Kolbe process!
Just for fun, here are my Kolbe scores.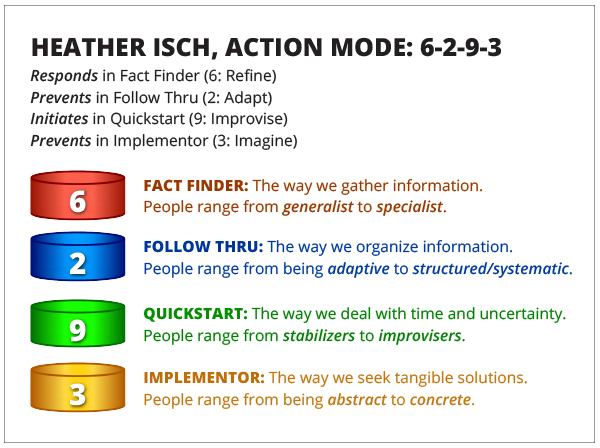 Does it make sense why my nickname around the office is "Number 9" now?