By Brian McWilliams
At LKF Marketing, we strive to learn about current web trends and stay ahead of the curve. That's why LKF's Creative Director Jennifer Hauschild and I attended Smashing Magazine's Conference in New York City in late 2019.
For those who don't know, Smashing Magazine hosts an encyclopedic website, publishes eBooks and a regular newsletter for web developers and designers, and is largely considered an industry leader when it comes to best practices and current trends in the world of web.
Jennifer and I learned a lot at the conference. One primary point I want to share with you is that web page load speed is now more important than ever yet often ignored by most developers.
As proof, consider that the average page size has steadily increased from 700k in 2010 to nearly 4M in 2019 according to MachMetrics. That's nearly a six-fold increase in 10 years and the trend looks as if it will continue.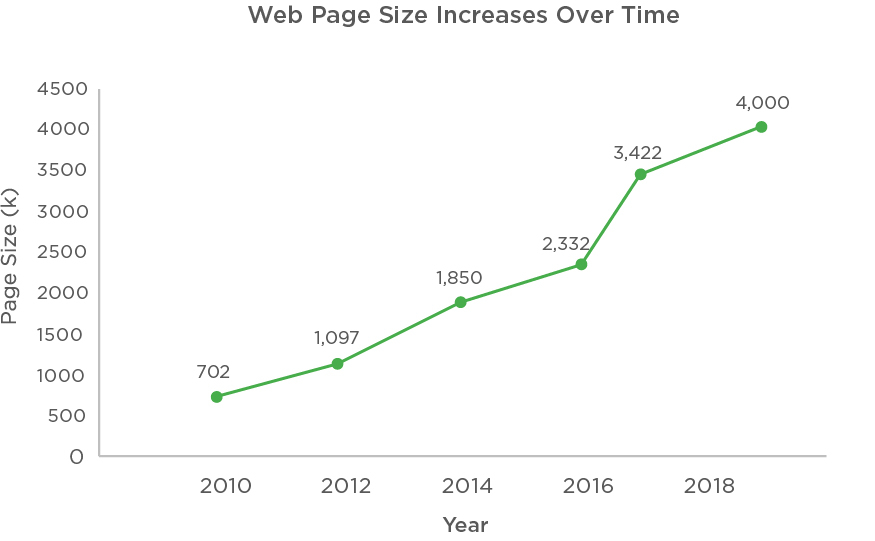 And it's easy to see why when you consider the following metrics: computer screen sizes have steadily increased, retina and high-density screens are now more common than ever, and network speeds have increased.
Most of us are now living with massive screens in a 4G world, right? So, who wouldn't want to deliver highly immersive visuals and maximize content on every page? Well, because a seismic shift has also occurred over the last 10 years in the way that users get their content.


According to StatCounter, mobile device usage matched that of desktops for the first time in late October 2016 for uses such as shopping, interacting on social media, and viewing websites. The ratio of those using smart phones and tablets compared to desktop computers now hovers around 52 percent.
The only problem is that the average user is checking out your site on, at best, a 3G connection with a mediocre smartphone with limited memory and slow processor speed. This means a page with lots of images (or large images) and content takes much longer to download and function on a mobile device than it does on a desktop computer.
It hasn't been smooth sailing for mobile users either judging by the following statistics from Vende Social. They estimate that it takes an average of 27.3 seconds to load a web page on a mobile device. Within that time, many visitors jump ship:
53 percent of visitors abandon a website that takes more than 3 seconds to load.
74 percent of visitors will leave if it takes more than 5 seconds to load.
46 percent of visitors say they won't revisit poorly performing websites.
In short, the longer a page takes to load, the higher the probability a visitor will leave (or bounce) to a new source, thus increasing your site's bounce rate. MachMetrics quantifies the likelihood of a bounce as follows.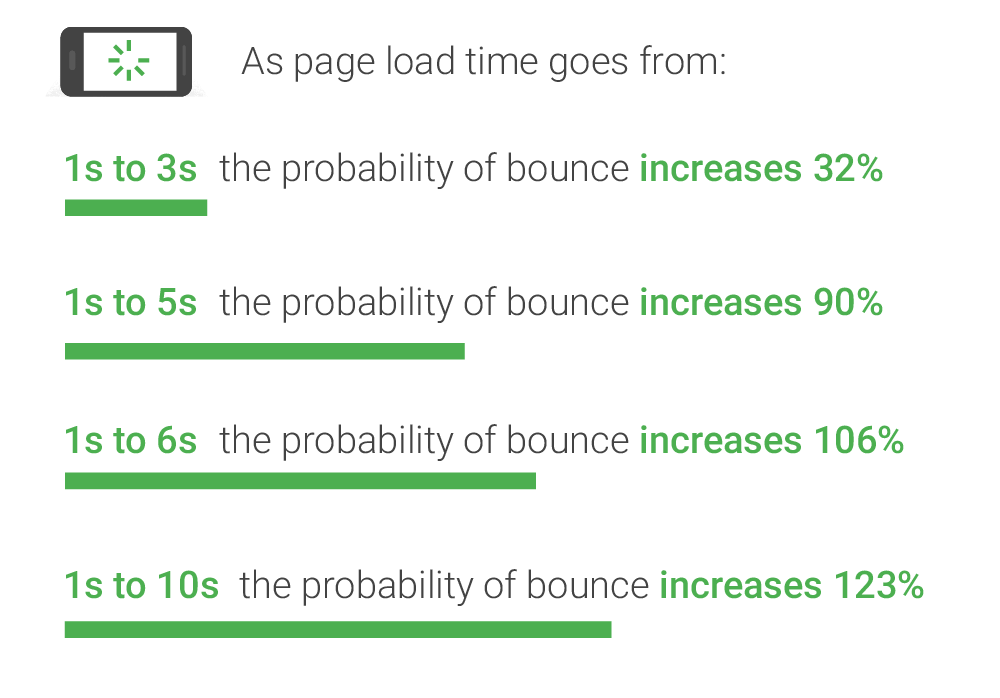 That's pretty eye opening and bad news for web developers. We build websites to engage and retain visitors, yet current trends show that at least 50 percent of those visitors give up because of slow page speed.
Google has taken notice and is now ranking poorly performing websites lower on search results. So, having a slow website now affects your Search Engine Optimization (SEO). Other search engines such as Bing are sure to follow suit.
Google recommends that your website should load in 5 seconds or less while the experts at Smashing Magazine recommend shooting for 2 seconds (remember, the stats above show that users start abandoning websites after 3 seconds or more). This means making your images leaner, limiting JavaScript and libraries, and compressing CSS and HTML before it's delivered.
Of course, responsive design (reformatting the page and only sending data that's necessary on mobile devices) can help limit how much content is sent to a mobile device, but it's vitally important to structure your pages so they're lean and focused on desktop machines, too.
How light should your pages be? The industry average in 2019 was 4M yet 750k is the recommended target to reach 2 seconds on desktop machines with fast Wi-Fi. And for mobile users on an average connection, 170k is the recommended target for the entire page.
It may sound like we need to go back in time to 2010 to keep customers from abandoning websites and Google from knocking SEO rankings, but, at LKF, we believe it is both possible and the best practice to create quickly loading yet engaging and informative web pages.
Contact us today. We are confident that we can help sort out your web page or speed issues and deliver highly effective websites that play well on any device.